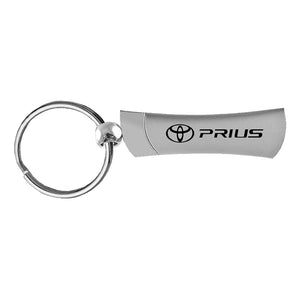 Toyota Prius Keychain & Keyring - Blade
SKU:
KC1700.PRI.DK
Make It About You

Purchasing an automobile is one of life's big decisions. There's no reason the pride you put into your car or truck purchase shouldn't extend to its vital accessories, too. Discounted Keychains can make you a custom keychain engraved with whatever message you want, for almost every make and model. Whether you're looking to gift yourself or someone else, the range of styles and engraving options make it easy to craft a tailor-made extension of the people you're close with.

Rev-Up Your Gift-Giving

You know your loved ones better than us. With our numerous options for customization, craft a unique gift they're sure to adore. Engrave a truck or car keychain with a personal message fit to brighten any special day—from anniversaries to the holidays, and beyond.

A Whole Lot to Choose From

Discounted Keychains is partnered with your favorite automotive brands. Whether your love is niche or the iconic, we supply the keychains and key rings sought by lifelong fans and first-time drivers, alike. These include:
Ford
Honda
Chevrolet
Cadillac
Jeep
Nissan
Mazda
and more!

Our world-famous iconic brands include: Mustang, Corvette, Civic, Acura, and Tesla .

Built for Every Look

Save time and money with accessories that last. Our durable keychains come in leather, metal, and polished chrome, and are delivered in a premium padded box that's perfect for gifting. Looking for something to fit your personal style? Check out the variety of custom key chain designs: Black or Silver Teardrop, Black leather, Valet, Wheel, Rectangular and more!

Add a spark of individuality to your morning drive. Personalize your keyring with Discounted Keychains, and discover what it's like to drive in customized style!